Lexi is feeling more and more relaxed here. She goes in and out of the crate without hesitation, she is eating and drinking, and using the bathroom regularly.
The big things for today:
There is tail wagging! No more tucked tail. This makes me happy. She is in love with Aaron. I believe she would spend the day in his office with him if given the chance.
Lexi is letting me medicate her ear. After I did it the first time, she made a beeline for the crate, but each time afterward was without incident at all.
Lexi has been wearing the prong collar since we got home. Today she has allowed me to take it off and put it back on her several times.
Her favorite place to be is in the office with Aaron. He will scratch her for a little bit, then we he goes back to work, she either sits beside him watching out the window or lies on the floor.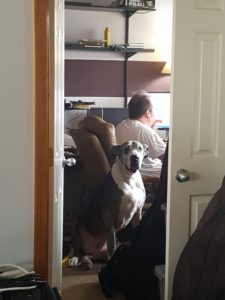 Because Lexi is coming out of her shell, we are seeing more issues. She has begun whining and barking from the kennel. When I am away from the house, she howls. All these will be corrected with the e-collar. (It is on its way!).
Lexi is still growling, but she does not growl at people. She is only growling at the dogs now – and it is each and every dog. She will not be allowed any interaction at all with them until I have the e-collar. I will probably buy a muzzle for her first as well.
Lexi understands sit, down, and kennel. To help build her confidence, I have started working with these commands. She's such a huge dog that I'm actually going to have to find something that I can use as "place" to teach her that command. I am waiting to teach heel until I have the e-collar.
I believe I'm already seeing some healing going on due to the nzymes I have been giving her. On the day that I picked her up, one of her ears was so swollen that I could not even see into it. Today, I can. There is is still a lot of swelling, but I see improvement. I got the open wound on the ear to scab over mostly, and what wasn't scabbed had dried up. Somehow she managed to knock the scab off. All I can do is continue to treat it.